WHY US

Small teacher-student ratio:
We keep our classes small so each gymnast gets a lot of personal attention! There are four students to a coach in our preschool classes, and five students to a coach in our recreational classes. Students take lots of turns and get individualized feedback from the coach.
Incredible Coaches:
Our coaches are highly trained and passionate about what they do! Our core team of coaches have a combined experience of 20 years teaching gymnastics. We love helping our gymnasts learn new skills as they develop confidence and many life skills. Please see our About Us section for more about our philosophy and dedicated staff.
Large Recreational and Team gym: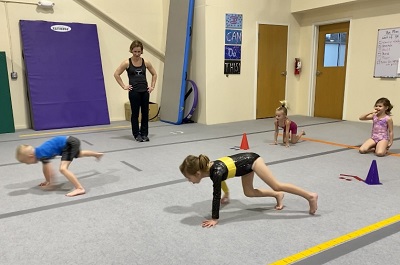 We have a beautiful, clean, new gym with plenty of room for every event. The Recreational and Team area occupies a full 50% of our floorplan and measures up to just over 8,000 square feet. Our equipment includes a foam pit, 40 foot long Tumbl Trak, full size spring floor, and a number of standard and specialty bars. In designing AGC, our intention was to create a space where gymnasts of every level will have a fun and safe place to work on body control, air awareness, coordination, bravery, and strength.
Devoted preschool area:
AGC has an incredible, large preschool area separate from the recreational/team gym. We decided to devote this space in order to provide the most safe and tailored experiences possible. The preschool area has its own foam pit, Tumbl Trak, bars, beams and a floor/vault area. All of this equipment is appropriately sized for smaller gymnasts to develop their skills. We designed it to be perfect for parent-tot and preschool classes, as well as open gym for kids under six years old.
Preschool Open Gym Every Weekday Morning!
Choose to come one day or every day from 10:00 to 11:00 AM. Check out our open gym section for details and to register ahead of time. It's so much fun and an amazing way to introduce young kids to the gym.
Comfortable viewing areas for parents and siblings:
We have chairs and large windows downstairs to watch the preschool space, and a viewing area upstairs that overlooks both the preschool and recreational/team gym. The upstairs also has a beautiful play area where siblings can enjoy books, paper and crayons, train table, Magna-Tiles and other toys. We want the whole family to enjoy their time at the gym.
Commitment to Health and Safety in our community:
We are doing our part by establishing and enforcing policies that prevent the spread of Covid-19. Additionally, all AGC staff and coaches are fully vaccinated. (This is not something businesses are expected to share but each one of us is proud to let you know!)
Working with Special Needs:
We have coaches with many years of experience teaching gymnasts who learn best with personalized, one-on-one attention. Please ask about private lessons by emailing callie@achievegymnasticscenter.com