CLASSES

Coach Callie and Coach Susan are happy to answer any questions about our classes at callie@achievegymnasticscenter.com or susan@achievegymnasticscenter.com.
One common question is if we have membership or registration fees, and we do not. Some people wonder if we offer a free trial class. The answer is no (because we are dedicated to maintaining our small student-teacher ratio) but our policy is to charge you only for the classes you take if you decide to stop. We charge monthly, but you will see the price per class listed below. This is explained more here, along with other information about enrollment, payment, and class policies. We want our families to get the best value and we designed our policies carefully, always considering what is most fair, convenient, and safe for everyone.

Parent-tot Class
Ages: Independent walkers / about 18 months – 3 years old
Class length: 45 minutes
Price: $28 per class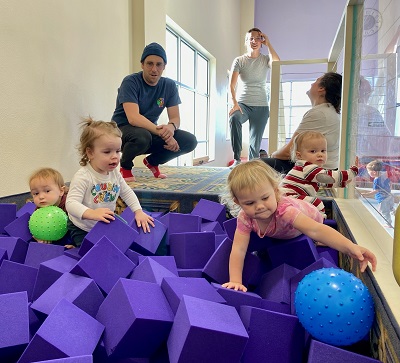 Description: Walking toddlers are accompanied by a caregiver in the preschool gym during these engaging classes. Our experienced coaches lead the class in songs and group activities that have a 'gymnastics twist' and set up a series of creative stations to develop fundamental gymnastics skills. Safety is a priority, so our instructors make sure to explain what the kids should focus on and show the adults how to help their child complete the skills safely. Of course, the instructors also spot the gymnasts, give pointers, and cheer them on! Children are introduced to new skills and challenges all the time. We celebrate their attempts and successes, helping them develop their self-esteem.
These classes are a great way to help young children become comfortable with rolling, climbing, swinging, jumping, and being upside down. Classes are also a great place where the kids can use their imaginations when we pretend to be animals or jump into an ocean, for example. Coaches encourage everyone to stay with the class as much as possible, but also understand little ones get distracted sometimes and that's ok! Class includes some exploration time at the end so they have an opportunity to go back to their favorite station or practice on the equipment they love most. (The Tumbl Trak and foam pit are often favorites!) Our ultimate goal is to have fun and safely work on learning basic skills that will help them on all four events: beam, floor, bars, and vault. The gymnasts also get to interact with other children in their age group and the adults often enjoy making connections with other families.
Preschool Gymnastics Class
Ages: 3 years old (as they are ready to be in the gym by themselves) – 5 years old
Class length: 45 minutes
Price: $28 per class
Description: Preschool aged children take these exciting classes independently (caregivers watch from the viewing area) in our devoted preschool space that has specialized equipment for smaller gymnasts. We limit these class sizes to just four gymnasts per instructor, which allows the coach to provide plenty of individual attention to every child. Our wonderful instructors lead the class in a warm-up and stretching, followed by structured rotations at the different events- vault, bars, beam, floor, and trampoline / TumbleTrak. We take pride in our creative and intentional lesson plans that help young gymnasts learn basic skills. The lessons have a lot of variety to keep things interesting but we also make sure to reenforce important concepts and skills from week to week. As the children improve, instructors challenge each of them individually with more difficulty. We are dedicated to being organized and focused on learning gymnastics, but we definitely make sure to also keep our classes fun, silly, and full of energy.
These classes help gymnasts develop coordination and body awareness, balance, strength, and flexibility. There are also the social and emotional components that are so important at this time in their lives. They practice listening to directions, taking turns, and working on focus. They will be proud to show off their cartwheels and forward rolls when they have these skills mastered, knowing that these accomplishments took a lot of hard work. It's amazing to see their perseverance develop and watch them gain confidence in their abilities!
Recreational Gymnastics Class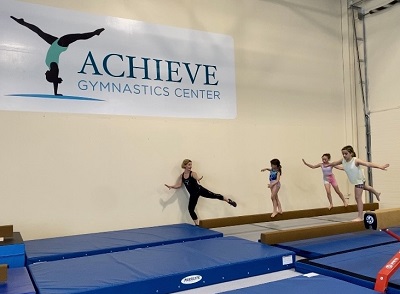 Ages: 6 years old - 17 years old
Class length: 75 minutes
Price: $38 per class

Description: Gymnastics training becomes more focused in these first-rate classes held in our spacious recreational gym space. We limit these class sizes to just five gymnasts per instructor as we are dedicated to giving every student enough feedback and support to allow them to make as much progress as possible. We can have six students in classes that are for nine year olds and up. The instructors lead warm-ups/stretching and plan their lessons according to the abilities of each gymnast and the group as a whole, making sure everyone can feel successful while also getting challenged appropriately on each event. Our classes are progressive and we teach classes of all levels. Coaches set up creative stations and drills designed to build strength and guide gymnasts through their skill progressions.
Our state of the art equipment makes AGC a safe and fun place to learn gymnastics (read more about our equipment below), but it is our high quality coaching that creates the best environment for our gymnasts to learn, grow and have fun. Please find more about our coaching philosophy on our ABOUT page.
Equipment
Foam Pit! The foam pit is fun for everyone and practical for learning high level gymnastics. At AGC, advanced gymnasts will be able to vault, tumble, and dismount off of beams and high bar into the pit (not all at the same time)
Tumbl Trak! Our 40ft long Tumbl Trak provides a safe and fun way to work on body awareness, coordination, strength and bravery. Landing in the foam pit or on a safe landing zone gives our gymnasts a lot of safe learning time!
A variety of bars! Our bars area is equipped with many different types of bars (floor bars, quad-bars, single rail bars, strap bar, and two full sets of uneven-bars) to challenge each of our gymnasts at their own level. Additionally, we have a pit bar to work on advanced skills. We focus on building upper body and core strength on this challenging event to set up our gymnasts for success.

Advanced Recreational Gymnastics Class
Ages: 6 years old - 17 years old
Class length: 90 minutes
Price: $46 per class

Description: These classes are by invitation only for students who are highly motivated, hard workers, and able to focus for a longer period of time. We focus more on shaping, building strength, and mastering basic skills and progressions. We can have up to ten students in these classes.
Advanced Skills Workshop
Ages: 9 years old - 17 years old
Class length: 90 minutes
Price: $46 per class

Description: Students work on select skills in these classes, following proper progressions with guidance from our experienced coaches. Gymnasts have the flexibility within each event to pick which skills they want to work on and establish their own goals. We can have up to ten students in these classes. Please email us to inquire about whether this would be the right class for your child.

Adult Gymnastics Class
Ages: 18 years old and up
Class length: 90 minutes
Price: $40 per class
Description: We provide gymnastics instruction led by our experienced coaches from beginner to experienced adult gymnasts. These classes are less structured than our recreational children's classes but we focus on safety and teaching skill progressions. After warm-up and stretching we spend our time working on skills as a group. Our coaches listen to the goals and motivations of the gymnasts and lead them through the gymnastics journey they are choosing as adults. If a student wants to focus on tumbling skills and bars but less on beam, for example, the coach will make a plan designed for them at their level. From forward rolls to giants on the bars and more, our gym is the happy place for gymnasts of all ages and experience levels.